Fêtes médiévales de Bayeux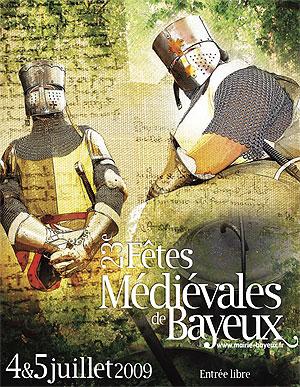 Les 25ème fêtes médiévales de Bayeux (14402) ont lieu cette année les 7 et 8 juillet 2012 dans le département du Calvados en Basse-Normandie. A cette occasion Signet d'Art sera présent au marché médiéval, autour de la cathédrale. Vous trouverez sans aucun doute un marque-page à votre goût pour agrémenter les livres que vous aurez fait dédicacer au 11ème salon du livre médiéval de Bayeux ! Plus d'informations:
Marque-pages Signet d'Art à Bayeux
View all our bookmarks by theme: Writing, Cats, Historical symbols, Insects, Egypt, Symbols, Horses, Fantasy, Music, Flowers, Animals of the savannah, Sea, Birds, Painting, Historical characters, Spiritual, Other animals, Forest animals, Art déco, Vehicles, Sport. Our bookmarks are delivered within 8 days with a gift bag. Payment by credit card, PayPal and check accepted.